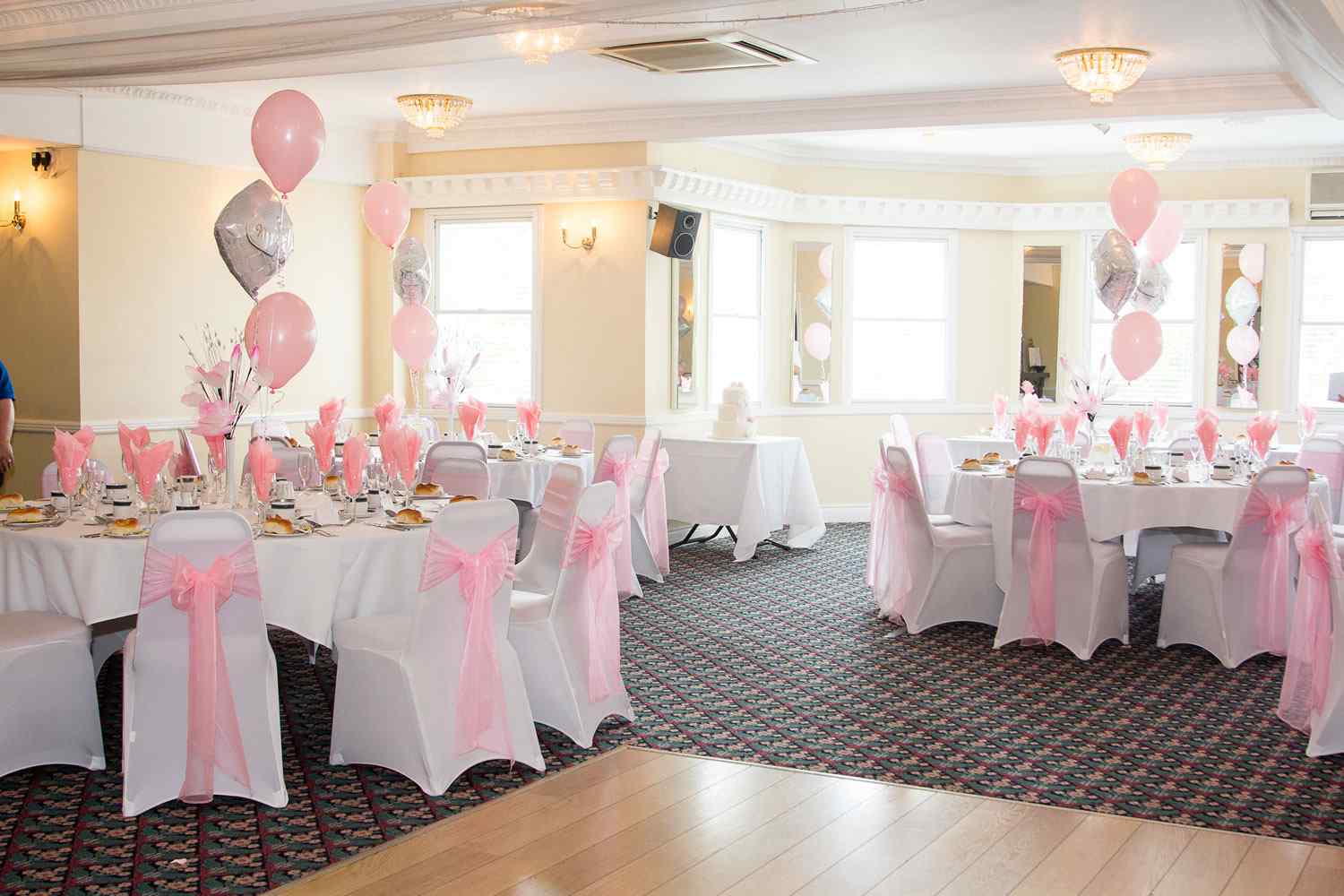 Thank you for considering The Oysterfleet Hotel as a venue for your special day.
Situated in the South of Essex, The Oysterfleet is an independently owned hotel. We offer a unique wedding suite, forty en-suite bedrooms, an 120 seater a la carte restaurant and a family friendly bar.
The enclosed information gives an insight into the services we can offer, however a viewing with our wedding and events co-ordinator will allow you to fully appreciate the full extent and flexibility of our Wedding packages.
Kindest regards
The Oysterfleet Hotel
Wedding Suites
Lakeside Suite
The Lakeside Suite is a beautifully spacious room situated on the first floor oft. He ick aside suite boinstisuwubarakindune lstand'spiciuresou.
lake, the Lakeside Suite boasts its own bar and dance floor.
Access is available to your own private area within our beautifully designed Lakeside Garden. Up to 150 guests can be accommodated a a sit down meal. Your own private section of the garden and lake views to 220 guests for an informal gathering.
The Wedding Package
Use of the Lakeside Suite
Seat covers and choice of colour sash
Reception drink and toasting drink
3 course wedding breakfast meal plus cake stand & knife
Up to ½ bottle of wine per adult to be served during your meal
Front of house manager and full bar facilities
House DJ to play until 12.30am
Bridal Suite and breakfast for two
Wedding Car (supplement of £150.00)
Monday to Thursday £70.00 per head
Sunday or Friday £80.00 per head
Saturday £90.00 per head
All prices are inclusive of VAT - Price excludes Bank Holiday Weekends
Minimum of 50 guest
Civil Ceremonies
The Oysterfleet Hotel is one of the first venues to be granted a premises license in the Essex area to be used for civil marriages under the Marriage Act 1994, Marriages regulations 1995.
we have several locations which can cater for small intimate ceremonies inside or out (20 guests) to large grand occasions (150 guests). Room hire for service £250.00.
As soon as you have made provisional arrangements for your marriage on an approved premises you should contact the Superintendent Registrar for the district in which the premises are situated. (The Register
Office - 0345 6037632).
You will also have to give a notice of marriage to the Superintendent Registrar in the area in which you live. The notice is valid for twelve months and must be given in person by each of you at least fifteen days before the date that the wedding is due to take place.
You are advised that any ceremony conducted on approved premises shall not be religious in any nature. The content of the ceremony must be agreed in advance with the Superintendent who will be attending the ceremony.
BREAKFAST MEAL
STARTERS
Soup of your choice
Stilton, bacon & glazed walnut salad
Chicken liver pâté with crostini
Prawn platter with seafood sauce
Melon fruit harvest
Mozzarella & tomato salad
MAIN COURSES
Roast leg of lamb served with minted jus
Supreme of chicken served with a choice of sauces
Roast Norfolk turkey served with chipolatas, stuffing and white wine jus
Slow roast loin of pork served with apple cider sauce
Roast British beef with Yorkshire pudding and a red wine jus
Fillet of salmon served with a creamy tarragon sauce
Roasted Mediterranean vegetable lasagne
Creamy mushroom stroganoff served with rice
Cumin, butternut squash & lentil wellington with onion gravy
All main dishes are served with potatoes and a selection of seasonal vegetables
DESSERTS
Chocolate profiteroles served with cream
Dutch apple flan
Mature cheddar cheese & biscuits
Strawberries & cream
Freshly brewed coffee and chocolate mints
Please note this is a suggested menu only, your wedding co-ordinator will be happy to discuss any changes for your ultimate meal
Finger buffets available
Menu F
£14.95
Assorted sandwiches sausage rolls
Roasted chicken drumsticks
Quiche Lorraine
Tortilla chips with salsa & sour cream & chive dip
Menu J
£18.95
Assorted sandwiches
Sausage rolls
Cajun seasoned potato wedges
Roasted chicken drumsticks
Pizza slices
Vegetable spring rolls
Tortilla chips with salsa & sour cream & chive dip
Buffet Extras
Platter of ham (30 slices) £50.00
Platter of roast turkey (30 slices) £50.00
Platter of roast beef (30 slices) £55.00
Trio of cheese platter £120.00
Platters
(based on 30 portions)
Coleslaw £26.00
New potatoes £26.00
Tomato pasta salad £30.00
Spicy cajun wedges £26.00
Mixed salad £30.00
Junior Menu
£29.95
Garlic bread or soup
Breaded chicken fillets with chips
Fish goujons with chips
Sausages & mash
Selection of ice creams
Drinks
Reception drinks
Bucks Fizz
Sherry
Pimms
Soft drinks
Drinks for your meal
House dry or medium white wine
House rose wine
House red wine
Mineral water
Hotel Rooms
40 ensuite bedrooms
Small twin / double
Standard twin / double
Small family room
Large family room
Bridal suite
Please check online for prices and availability
DOWNLOAD BROCHURE
Get in touch with us
Some coordinates and info, so we can always be in touch.
CONTACT US
---
Oysterfleet Hotel
21 Knightswick Road
Canvey Island, Essex SS8 9PA
RECEPTION
---
Mon - Sat: 9am - 9pm
Sun: 9am - 8pm
BREAKFAST
---
Mon - Sun: 8.30am - 10am
BAR
---
Mon - Thurs: 11am - 11pm
Fri: 11am - Midnight
Sat: 11am - Midnight
Sun: 12am - 10.30pm
BAR FOOD
---
Mon - Fri: 12pm - 3pm & 5.30pm - 9.00pm
Sat: 12pm - 9.00pm
Sun: 6.30pm - 8.00pm
LIGHTHOUSE
---
Mon - Sat: 12pm - 2pm & 6pm - 9pm
Sun: 12pm - 4.30pm (Sunday Carvery)